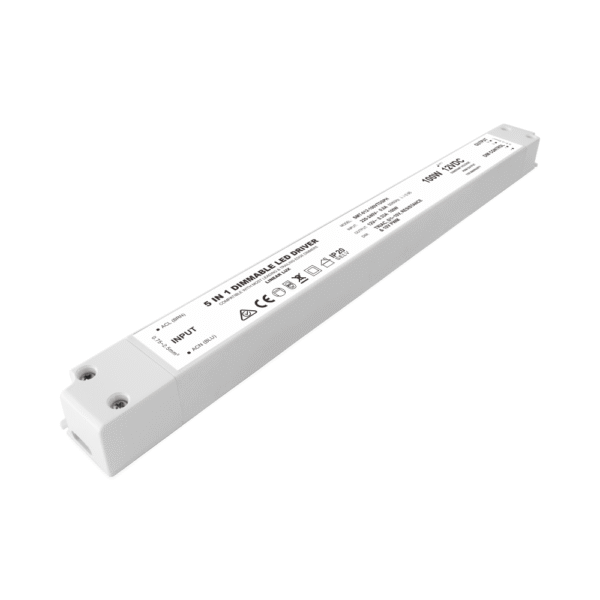 100W 12V DC 8.3A Linear LED Driver 5in1 Dimmable
LMVT-100-12
Triac (Phase Cut: Leading or Trailing Edge), 0~10V, 1~10V, Potentiometer & 10V PWM Dimmable

18 in stock (can be backordered)
Quantity

Price (Excl GST), Models can be mixed for quantity pricing. Contact us for mixed quantity pricing.

1 - 4

$

133.70

5 - 9

$

124.90

10 - 19

$

116.80

20+

$

108.70
Description
This linear LED driver allows dimming by triac (phase cut), 0~10V, 1-10V, potentiometer or 10V PWM signals.  With a PWM output up to 100W 8.3A @ 12V DC, it is the ideal choice for dimming small loads with excellent results.  Full ranging dimming from 0~100%, regardless of load and no flicker.
Triac dimming
This driver is compatible with most industry leading mains voltage wallplate dimmers.  Suitable for use with trailing, leading edge or LED specific dimmer mechs.  We stock both rotary and push button dimmer mechs to suit both Clipsal and HPM wallplates.  Whilst this LED driver suits most dimmers on the Australian market please see the Compatibility chart for choosing the best dimmer that suits your application.
0~10V / 1~10V
0~10V / 1~10V offers exceptional dimming results with no compatibility issues.  However a seperate set of dimming signal wires are required, this is not always achievable in existing installations. We stock the D1-10 0~10V rotary dimmer which suits most wallplates.
LED drivers with PWM output are the preferred method of dimming LED strip light for two main reasons. It offers full range even dimming, regardless of the load on the LED driver and also maintains colour temperature.
Suited to indoor applications only.
Specifications
Output
Voltage
12 VDC
Current
8.33 A
Power
100 W
Frequency Range
47 ∼ 63 Hz
Input
Voltage
200 ∼ 240 VAC
Current
0.50 A
Inrush Current
72 A @ 230 VAC (twidth=116µs @ 50% lpeak)
Efficiency
85% (Full load)
Power Factor
PF≥0.96 @ 230VAC TYP.
Features
Dimmable
Triac (Phase Cut)
– Leading Edge
– Trailing Edge
0~10V / 1~10V
Potentiometer
10V PWM
Auxiliary Power
No
Remote Function
No
Connections
Input
Screw Terminals
Output
Screw Terminals
Protections
Over Current
≤ 120% hiccup mode, recovers automatically after fault removed
Short Circuit
Shut down output voltage; Repower to recover after fault removed
Over Temp.
Tc ≥ 100°C ±10°C; Re-power to recover
Environment
Working Temp.
Tcase= -40 ~ +60°C (refer datasheet for derating)
Working Humidity
20 ~ 95% RH non-condensing
IP Rating
IP20
Dimensions
L x W x H
330 x 30 x 22 mm
Weight
0.4 kg
Carton Quantity
50 pieces
Other
Class
II
Warranty
7 Years
Approvals
RCM (Australia)
Only logged in customers who have purchased this product may leave a review.