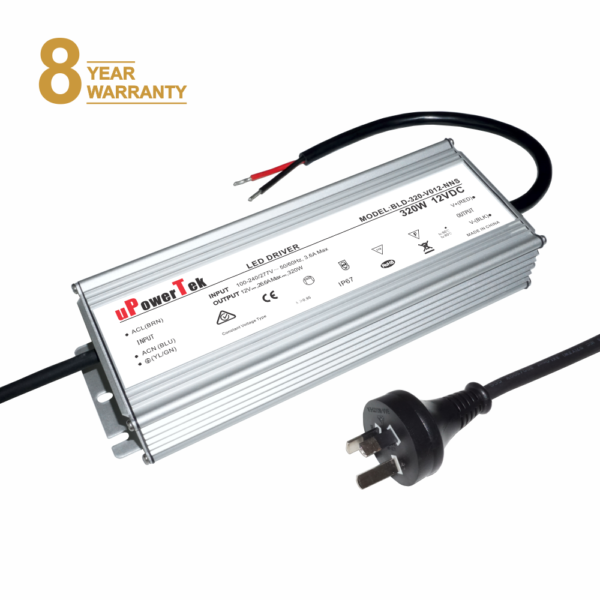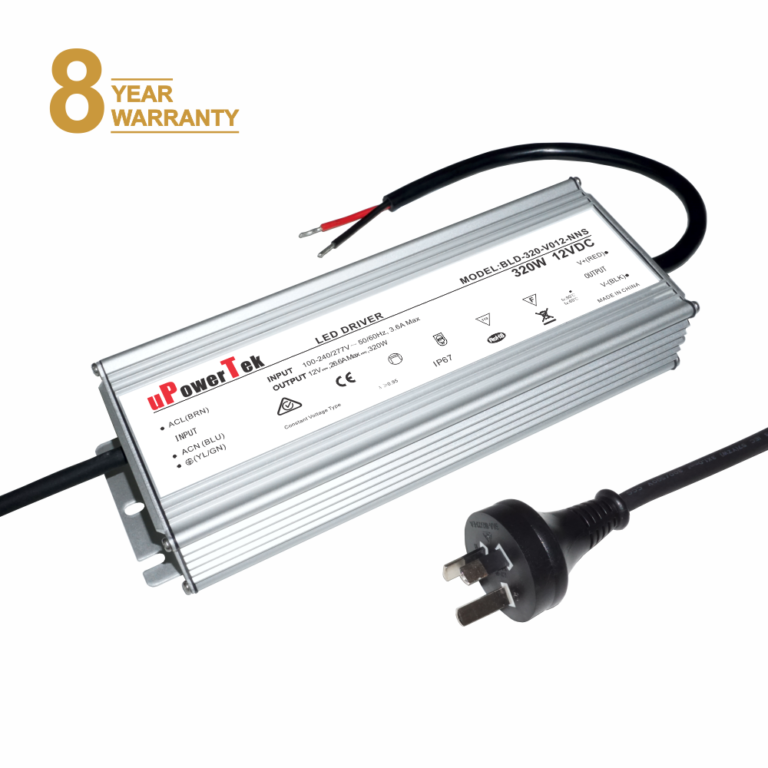 320W 12V DC 26.6A LED Driver | uPowerTek BLD-320-V012-NNS






173 in stock
Quantity

Price (Excl GST), Models can be mixed for quantity pricing. Contact us for mixed quantity pricing.

1 - 4

$

130.80

5 - 9

$

152.80

10 - 19

$

142.80

20+

$

133.50
Description
uPowerTek's BLD-320-V012-NNS is a 320W 12V DC constant voltage LED driver with a current output up to 26.6A.  With class leading features, this driver is the ultimate choice when it comes to operating LED strip Light or other constant voltage LED lighting.
uPowerTek's BLD series LED drivers offer some of the most advanced features available on the market.  These include; industry leading 8 year warranty, 100,000hr lifetime, 10kV surge protection, ultra compact design, high operating temperature and IP67 environmental rating.
Designed as an enclosed, fanless LED driver it is suits both indoor and outdoor (wet) environments, with a protection rating of IP67.  Despite the omission of a cooling fan the driver can operate at full output up to a case temperature of 75°C.
The compact design allows for installation where space is a premium or the driver is to  be hidden in places such as ceiling coffers.
Dimmable models are available in 0∼10V, DALI, PUSH or DMX, all dimmable models feature PWM output.
Why is PWM output important?  PWM dimming does not require load matching, this means you will always have consistent, full range dimming regardless of driver capacity and/or load.  It also allows for identical dimming levels using different size drivers operated by the same dimmer.  Meaning, you can have a 150W driver operating a 90W load and a 100W driver operating a 90W load, with both  LED luminaries dimming at the same rate.  Offering 0-100% dimming and no flicker.
All uPowerTek BLD series LED drivers are fitted with Australian mains plug and are RCM approved.
uPowerTek BLD-320-V012-NNS 320W 12V LED Driver
Features
Constant voltage: 12V DC

Max. output power: 320W

High efficiency

Wide input voltage range

10kV surge protection

Compact design

Dry, damp and wet locations – IP67

Nominal life-time of 100,000hr @ Tc=75℃

8 year warranty @ Tc=75℃
Protections
Over temperature

Overload

Short-circuit
Suitable replacement for Mean Well HLG-320H-12, Osram & Tridonic LED drivers based on performance, quality and price.
The BLD & TLD CV series are available in the following sizes:
50W  60W  75W  100W  120W  150W  200W  240W  320W  400W  480W  600W  800W
Linear Lux is the Australian uPowerTek Distributor
We encourage you to compare uPowerTek's BLD / TLD series against any other LED driver for both performance and price.
Models
| Model Number | Input Voltage Range | Output Power | Output Voltage | Output Current | Dimming Method | 12V Aux | Dim-Off Power |
| --- | --- | --- | --- | --- | --- | --- | --- |
| BLD-320-V012-NNS | 90~305 VAC | 320 W | 12 V | 26.6 A | None | No | – |
| BLD-320-V012-DNS | 90~305 VAC | 320 W | 12 V | 26.6 A | 0~10V | No | <1.5 W |
| BLD-320-V012-ENS | 90∼305 VAC | 320 W | 12 V | 26.6 A | 0~10V | Yes | <0.5 W |
| BLD-320-V012-ANS | 90∼305 VAC | 320 W | 12 V | 26.6 A | DALI | No | <1.5 W |
| BLD-320-V012-MRS | 90∼305 VAC | 320 W | 12 V | 26.6 A | DMX | No | <1.5 W |
Only logged in customers who have purchased this product may leave a review.