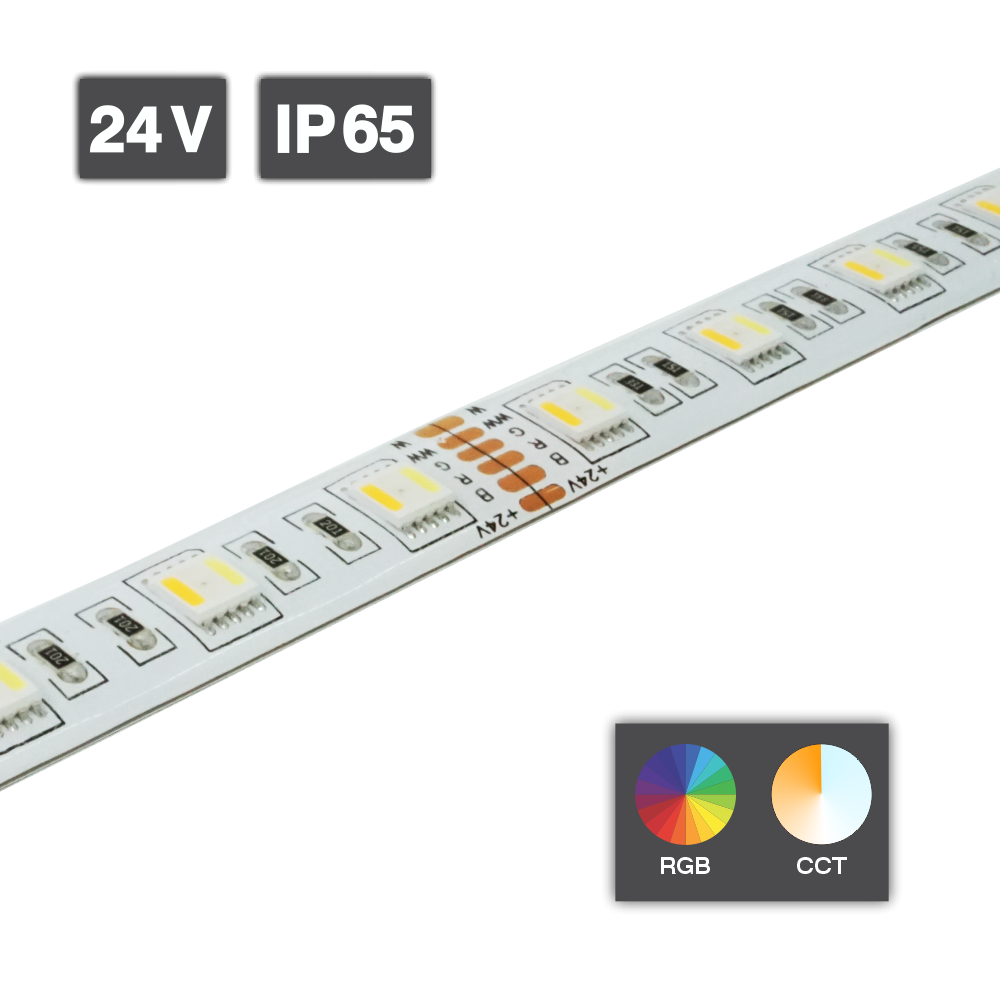 Flexible LED Strip Light | RGB+CCT | 27W/m 72 LED/m 24V IP65 20m

5 in stock (can be backordered)
LL50-072-24-RGBCCT-IP65-20M
Description
Application
This RGB+CCT flexible LED strip light has 72LEDs/m of 5050 LEDs.  Each LED incorporates a red, green, blue and dual white chips, allowing it to produce any colour as well as white from 2400K to 6500K.
This tape produces a high light output and is ideal for colour mixing large areas as well as producing both warm and cool white light.
Linear Lux's RGB+CCT LED strip light is far superior to the Philips Hue & LIFX LED  strip light, for the following reasons:
Our strip light is available in 5m cuttable lengths
Much higher brightness
Higher CRI: >90+
Shorter cutting lengths
Wider white colour selection
Philips Hue compatible using our controllers
Environment
This LED strip carries an IP65 rating, it can withstand high humidity environments as well as splashes of water.
CRI
The CRI of the series is >90. We can offer LED strip with a CRI of up to 99.
Colour Consistency: One Bin
Colour consistency is one of the main factors for choosing a high quality LED strip. We can ensure colour consistency by selecting the same BIN per CCT.
Very few other suppliers will tell you which BIN of LEDs your strip has come from, this is important if you need to add to an existing installation. We will also keep a record of the CCT and BIN for all of your orders. The CCT and BIN is also printed on the outer packaging of each LED strip.
See here for the current BIN of each CCT.
Specifications
Electrical Data
Voltage
24 VDC
Wattage 1m
27 W
Current 1m
1.13 A
LED Data
Package Type
5050

Chips LED
5
LEDs 1m
70
Pitch
16.67 mm
Photometric Data
Colour Temperature
RGB
2400-6500°K
Colour Rendering Index Ra
90
Luminous Flux 1m
1190 lm
Luminous Efficacy
N/A
Beam Angle
120°
Dimmable
1 ∼ 100% (refer data sheet)
Construction / Protection Data
Substrate
Double layer FPCB
Mounting
Double sided tape 3M 9080
IP Rating
IP65
Operating Temperature
-20 ∼ +70 C°
Storage Temperature
-20 ∼ +50 C°
Dimensions
Cutting increments
6 LEDs / 100mm
Length
20m
Width
12.0mm
Height
1.8mm
Lifetime
Working Life
70,0000 hrs
Only logged in customers who have purchased this product may leave a review.