Flexible LED Strip Light | RGB 84 LED/m | 17.1W/m 24V IP67 5M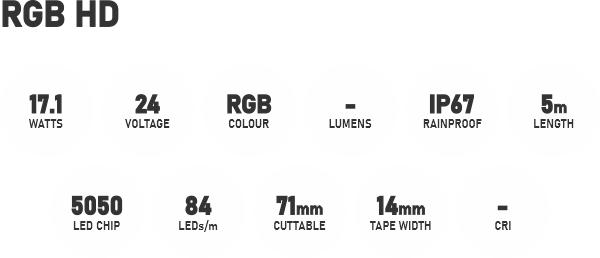 15 in stock
Description
Our RGB (HD) High Density LED strip light uses 84x 5050 RGB LEDs.   The high density number of LEDs minimises the visual dottiness and ensures a high brightness vivid colour.
This PCB is made using 3oz copper, this reduces voltage drop, so allows for a continuous 10m length without visible loss of brightness.
Environment
This LED strip carries an IP rating of 67, the LED strip is encased in a flexible silicone tube to protect it from high levels of water exposure. The silicone tube is UV stable which is resistant to yellowing and deterioration. It is designed for heavy or prolonged exposure to water, but not submersion.
Specifications
Electrical Data
Voltage
24 VDC
Wattage 1m
17.1 W
Current 1m
0.72 A
LED Data
Package Type
5050
Chips LED
3
LEDs 1m
84
Pitch
11.9 mm
Photometric Data
Colour Temperature
RGB
Colour Rendering Index Ra
N/A
Luminous Flux 1m
714 lm
Luminous Efficacey
N/A
Beam Angle
120°
Dimmable
1 ∼ 100% (refer data sheet)
Construction / Protection Data
Substrate
Double layer FPCB
Mounting
Double sided tape 3M 9080
IP Rating
IP67
Operating Temperature
-20 ∼ +70 C°
Storage Temperature
-20 ∼ +50 C°
Dimensions
Cutting increments
6 LEDs / 71.4mm
Length
5m
Width
12.0mm
Height
5.0mm
Lifetime
Working Life
70,0000 hrs