LED Track Spotlight RGB+CCT 6W 30°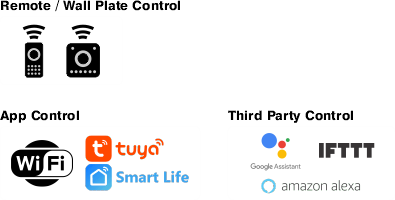 Description
This 6W RGBCCT track spotlight produces up to 16 million colours as well as a range of white from 2700K up to 6500K.  In conjunction with dimming this offers the user ultimate flexibility to create a unique environment previously not available with standard track lights.  Both the track light and track rail are available in both black or white.  The track lights are held into the track using strong magnets.
Individual or groups (zones) of lights can be controlled by a handheld remote control or wireless wall plate.  The setup takes seconds and requires no complex installation of control wires.  With the optional WiFi Gateway the user can also control the lights through either the tuya or smartlife app.  Additionally the user can also control the lights using Google Assistant or Amazon Alexa, as well as IFTTT.  Custom lighting scenes, colour changing programs and scheduling can be utilised within the app.  DMX control can also be incorporated with the use of the RF to DMX512 Signal Converter.
Our LED track lighting system is ideally suited to retail, commercial and residential applications.  Almost unlimited light colour choices whilst being simple to install and operate.
The lights are paired with the desired controller following a simple procedure.  Individual lights can be added or removed from one track to another by repeating the procedure.  These lights operate through a MESH network, whereby each light receives and passes on the control signal.  This creates an almost infinite range provided at least on light is within 30m of another light.  There is no limit to the number of lights or controllers, remotes, wall plates and app based control can be used in conjunction with each other.  We also offer LED strip light, floodlights and a range of outdoor lights that can be integrated into the same control system.
As these lights operate from 48VDC, there is zero chance of electric shock.  This allows the light's position or configuration to be changed by a home owner or shop assistant.  We stock a range of 48V LED drivers with factory fitted mains plug for easy installation.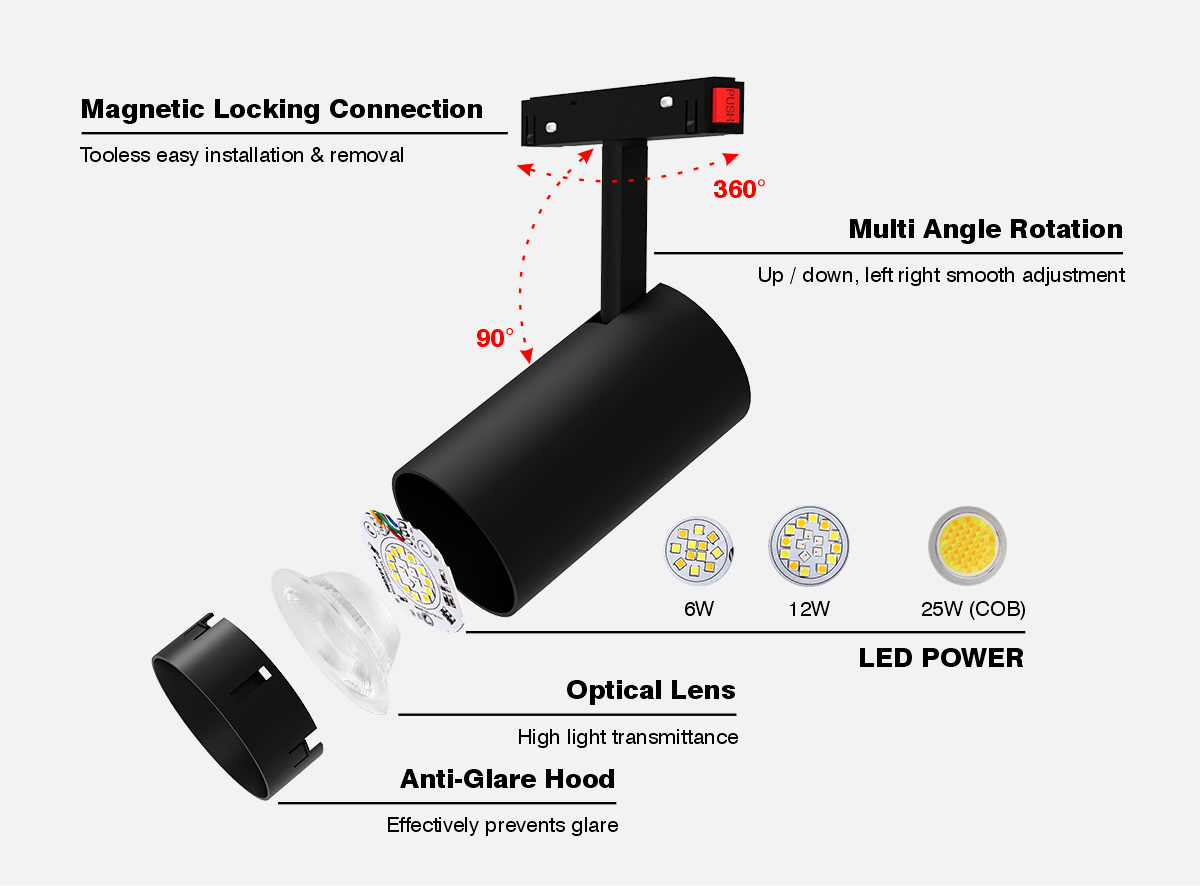 The track rail is available in 4 configurations; surface mount, suspended, flush plaster mount and recessed plaster mount.  Horizontal and vertical corner connectors, "T" and "X" connectors as well as suspension wire and rods are also stocked.  All series are stocked in both black and white.
Specifications
Function
Track Spotlight
LED Chip Colour
Red
Green
Blue
White (2700K ~ 6500K)
Power
6W
Beam Angle
30°
Luminous Flux
420 LM
Luminous Efficiency
72 LM/W
Voltage
48 VDC
Control
Remote Control (RF 2.4GHz 6dBm)
WiFi (optional)
DMX (optional)
Control Distance
30m
Wiring
2 Wire
Environmental Rating
IP20
Housing Material
Aluminium
Working Temp.
-10 ∼ 40°C
Dimensions
See diagram
Only logged in customers who have purchased this product may leave a review.