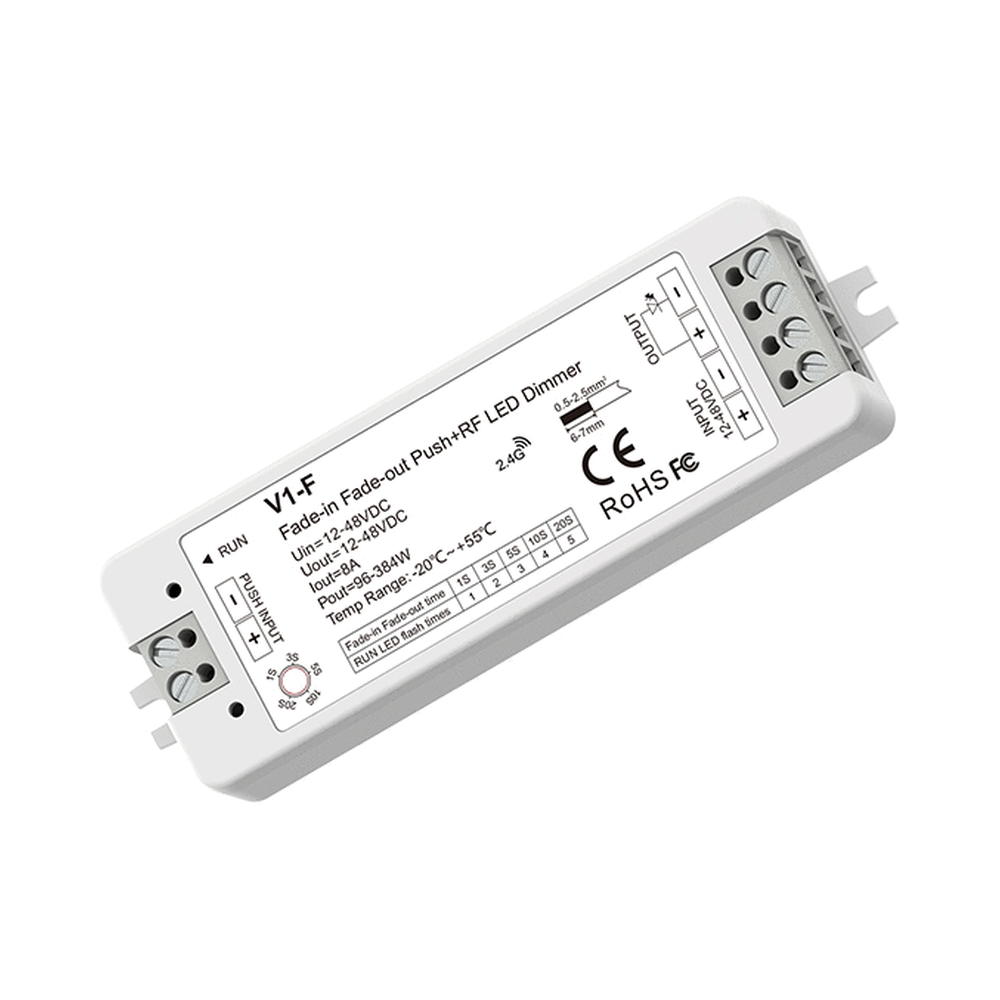 Single Colour Soft Start Receiver / Controller 8A (RF Remote, PUSH Dimmer) | V1-F
19 in stock (can be backordered)
Description
This Dimmer Receiver / Controller can be controlled by any of Skydance's single colour remote controls or a Push Dim signal.  Additionally, the ramp up brightness and dim to off time can be set from 1 to 20 seconds.  This feature allows your eyes enough time to acclimatise without the sudden shock.  With a current rating up to 8A it can operate a large quantity of single colour LED strip lights.  The versatility of this controller allows it to suit a wide variety of applications.
RF Control
Pairing the receiver is simply performed by: A short press of the match key on the receiver / controller.  Followed by an immediate press of the on/off key on the remote.  The LED indicator on the remote control will fast flash a few times, indicating the match is successful.
Push Dim
Short Press – turn on or off
Long Press – press and hold for step-less dimming
With every other long press, the light level goes to the opposite direction
FEATURES:
Output power: 8A   96W @ 12V /192W @ 24V
Programmable soft start and off; 1sec, 3sec, 5sec, 10sec, 20sec
4096 levels 0~100% brightness
Smooth dimming without flicker
Light returns to the previous dimming level when switched off and on again, even at power failure
30m range (with auto retransmission), receiver automatically transmits the signal to another receiver within 30m
1 remote can be paired to an infinite number of receivers
Up to 10 remotes can be paired to just 1 receiver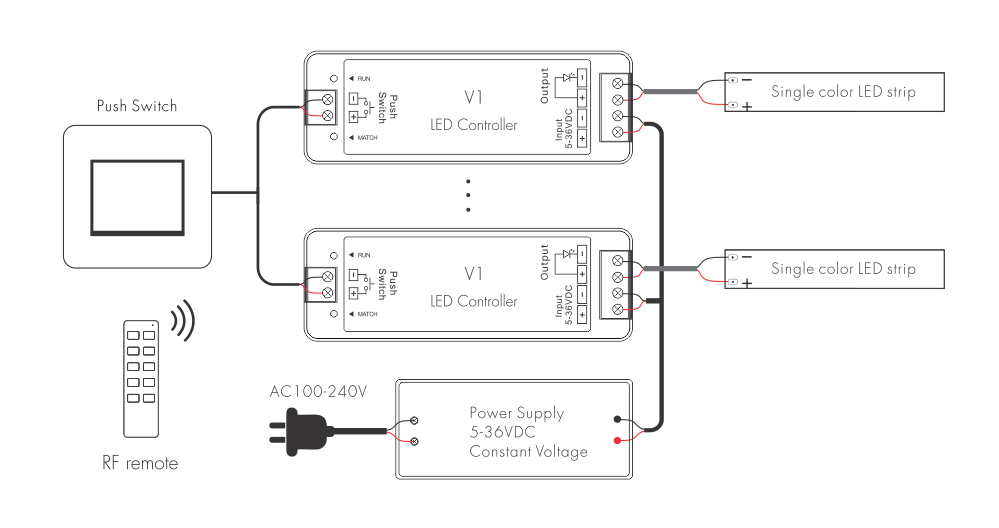 Specifications
Function
Single colour dimmer
Channels
1
Control Type
RF Remote
Push Dim
Input Voltage
12~24VDC
Output Voltage
12~24VDC
Output Power
8A
96W @ 12V
192W @ 24V
Transmission Frequency
RF 2.4GHz
Transmission Distance
30m
Dimming Greyscale
4096 levels
Dimming Range
0~100%
Dimming Curve
Logarithmic
PWM Frequency
500Hz (default)
Operating Temperature
Ta: -30°C ~ +55°C
Case Temperature (Max.)
Tc: +85°C
IP Rating
IP20
Dimensions
97 x 33 x 18mm
Protections
Reverse Polarity
Warranty
5 Years
Only logged in customers who have purchased this product may leave a review.