Flexible LED Strip Light | Series 5 | 14.4W/m 12V Blue IP67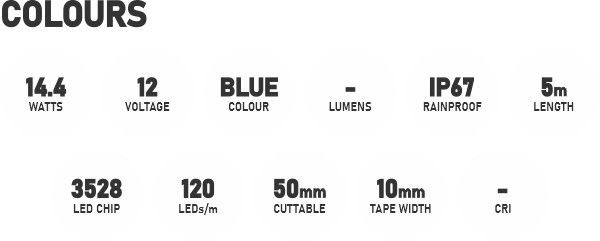 7 in stock (can be backordered)
Description
Our Series 5 | 14.4W/m flexible LED strip light uses 120/m of BLUE 2835 LEDs.   The high density of LEDs minimise the visual dottiness and ensures a vivid bright colour.
As well as Blue, we also stock other static colours; Green, Red, Yellow, Pink, Purple and Orange.
The PCB is made using 3oz copper, this reduces voltage drop, so allows for a continuous 10m length without visible loss of brightness.
The thermal efficiency of this LED strip means it does not require a heatsink allowing it to be mounted to almost any smooth hard surface.
This LED strip carries an environmental rating of IP67, this is a rain proof LED strip.  It can be used for both indoor and outdoor applications. We also stock both IP20 and IP65.
Specifications
Electrical Data
Voltage
12 VDC
Wattage 1m
14.4 W
Current 1m
1.2 A
LED Data
Package Type
3528
Chips LED
1
LEDs 1m
120
Pitch
8.33 mm
Photometric Data
Colour Temperature
Blue
Colour Rendering Index Ra
N/A
Luminous Flux 1m
Luminous Efficacey
Beam Angle
120°
Dimmable
1 ∼ 100% (refer data sheet)
Construction / Protection Data
Substrate
Double layer FPCB
3oz
Mounting
Double sided tape 3M 9080
IP Rating
IP20
Operating Temperature
-20 ∼ +70 C°
Storage Temperature
-20 ∼ +50 C°
Dimensions
Cutting increments
6 LEDs / 50mm
Length
5m
Width
10.0mm
Height
1.2mm
Lifetime
Working Life
70,0000 hrs
Downloads
Contact us for data sheets
Only logged in customers who have purchased this product may leave a review.