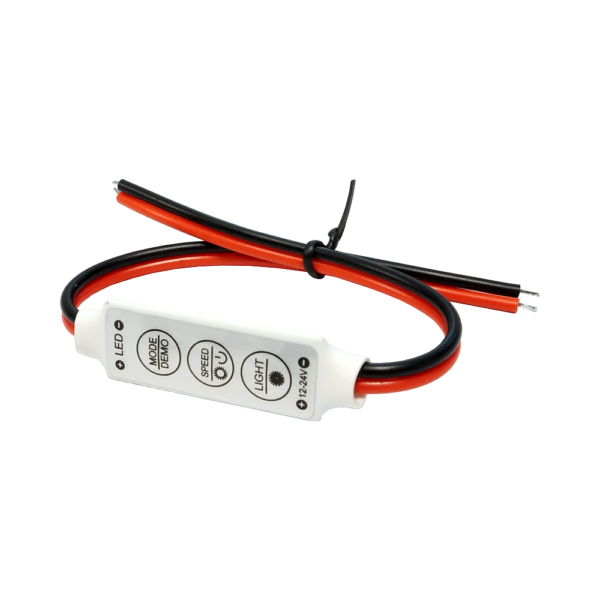 Single Colour Mini Dimmer / Flasher Inline 6A
20 in stock
Description
This inline on/off dimmer switch offers a compact design profile to control single colour LED strip light.
Choose from 8 levels of brightness, turn lights on or off, or choose a dynamic mode for added effect.  There are 5 dynamic modes offering; flashing, breathing and strobing effects.  Speed of the dynamic modes can be changed.
Memory Feature: This controller will memorise the last setting once turned back on.
Specifications
Channels
1
Control
Push buttons
Voltage Rating
12~24VDC
Current Rating
6A (max)
Power Rating
72W (12V)
144W (24V)
Modulation Method
PWM
Input Connection
Cable
Output Connection
Cable
Operating Temperature
-20 ~ +70C
Dimensions (L x W x H)
45 x 12 x 5mm
Instructions
Instructions:
To turn on quickly press the middle button.
To turn off press and hold the middle button.
To enable standard dimmer mode, press the lower button once, then you can press the middle button to increase brightness or press the lower button to lower brightness.
To enable one of the dynamic modes press the top button. There are five dynamic modes. Switch between them by pressing the top button. The speed of the dynamic modes can be adjusted by pressing the middle button. To exit dynamic mode, click the lower button once which switches it back to standard dimmer mode.
Only logged in customers who have purchased this product may leave a review.