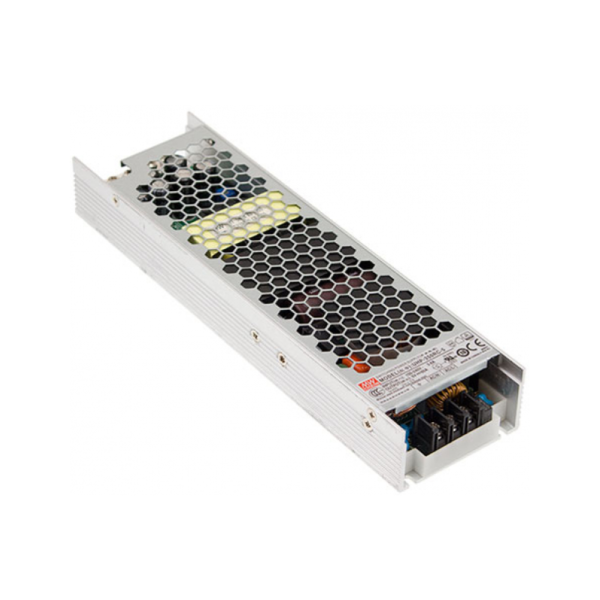 Mean Well UHP-350R-24 | 24VDC 14.6A Enclosed Power Supply

Model: UHP-350R-24
Warranty: 3 Years
3 in stock (can be backordered)
Description
The UHP-350R-12 is a 350W 24VDC 14.6A enclosed frame power supply. This series adopts a fanless convection design which allows it to operate at an ambient temperature between -30ºC to 50ºC at maximum output with free air convection. Higher temperatures will require conduction cooling (see data sheet for further details).
This series features a redundancy function whereby two of the same power supplies can be connected in parallel, when one PSU fails, the other PSU will be automatically enabled. This can prevent a system crash. When in parallel operation the maximum load should not be greater than the rated power of either PSU.
It's ultra slim width and low profile frame allows it to suit tight installations.
Specifications
Output
Voltage
24 VDC
Current
14.6 A
Power
350 W
Adj Voltage Range
22.8 ~ 25.2 VDC
LED Indicator
Yes
Input
Voltage
90 ∼ 264 VAC / 127 ∼ 370 VDC
Current
2 A @ 230 VAC
Inrush Current
60 A
Efficiency
94%
Connections
Input
Screw terminals
Output
Screw terminals
Protections
Over Voltage
26.4 ~ 31.2 VDC | Re-power to recover
Overload
110 ∼ 140% rated output | Recovers once fault removed
Environment
Working Temp.
Tcase= -30 ~ +70°C (refer datasheet for derating)
Cooling Method
Convection & conduction
Working Humidity
20 ~ 95% RH non-condensing
IP Rating
IP20
Dimensions
L x W x H
220 x 62 x 31 mm
Weight
0.680 kg
Carton Quantity
16 pieces / 11.88 kg
Other
MTBF
285K HRS MIN
Warranty
3 Years
Approvals
RCM (Australia)
Only logged in customers who have purchased this product may leave a review.