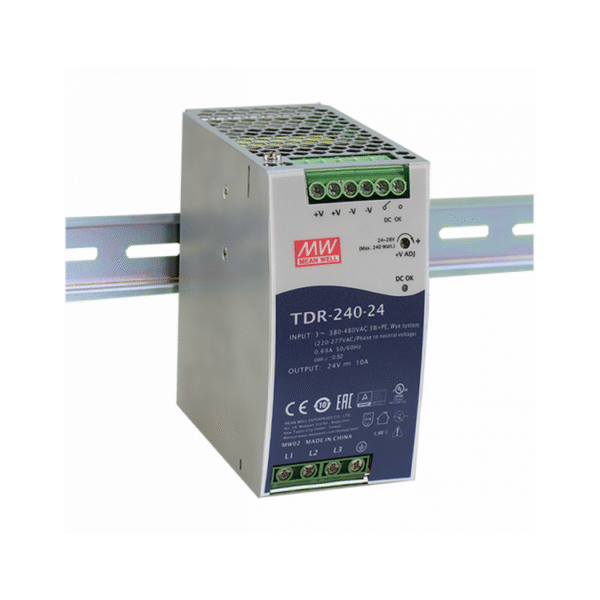 Mean Well TDR-240-24 | 24VDC 10A DIN Rail Power Supply

Model: TDR-240-24
Warranty: 3 Years
12 in stock (can be backordered)
Description
The TDR-240-24 is a 240W 24V 10A DIN Rail power supply. It can operate on both 2 or 3 phase from 340-550VAC.  Equipped with constant current mode for over-load protection, suitable for various inductive or capacitive applications. Output voltage can be adjusted up to 28VDC by the use of a trimpot. The TDR series can operate at an ambient temperature between -30ºC and 70ºC with free air convection.
Specifications
Output
Voltage
24 VDC
Current
10 A
Power
240 W
Adj Voltage Range
24 ∼ 28 VDC
Input
Voltage
340 ∼ 550 VAC / 480 ∼ 780 VDC
Current
0.6 A @ 500 VAC
Inrush Current
50 A
Efficiency
92%
Connections
Input
Screw terminals
Output
Screw terminals
Protections
Over Voltage
30 ∼ 36 VDC | Re-power to recover
Overload
105 ~ 130% rated output | Recovers once fault removed
Environment
Working Temp.
Tcase= -30 ~ +70°C (refer datasheet for derating)
Working Humidity
20 ~ 95% RH non-condensing
IP Rating
IP20
Dimensions
W x H x D
63 x 125 x 114 mm
Weight
1.0 kg
Carton Quantity
12 pieces / 13 kg
Other
DIN Rail
TS35/7.5 or TS35/15
MTBF
515.4K HRS MIN
Warranty
3 Years
Approvals
RCM (Australia)
Only logged in customers who have purchased this product may leave a review.