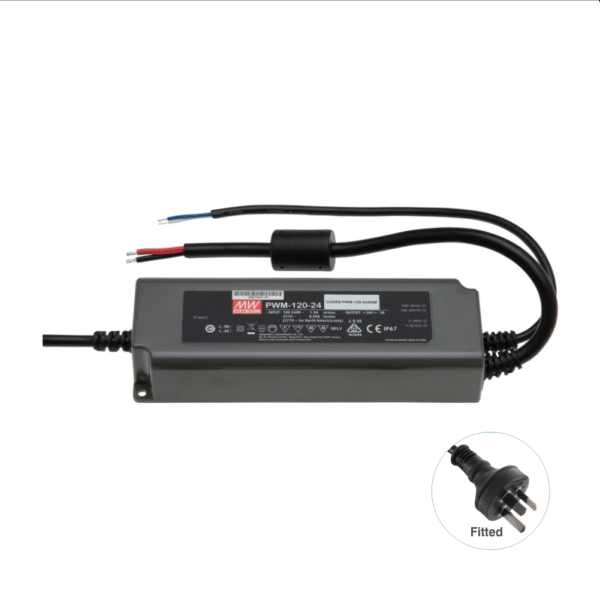 120W 12V DC 10A LED PWM Driver Dimmable | Mean Well PWM-120-12

Model: PWM-120-12 (Dimmable)
Warranty: 5 Years
4 in stock
Description
The PWM-120-12 is a PWM output LED driver providing 10.0A @ 12VDC.  This driver is your best choice for dimming constant voltage LED strip, it will give an even dimming range to zero regardless of load matching as well as maintaining colour temperature.
Specifications
Output
Voltage
12 VDC
Current
10.0 A
Power
120 W
Dimming Range
0 ∼ 100%
PWM Frequency
1.47kHz
Input
Voltage
90 ∼ 305 VAC / 127 ∼ 431 VDC
Current
0.65 A @ 230 VAC
Inrush Current
60 A @ 230 VAC (twidth=520µs @ 50% lpeak)
Efficiency
88.0%
Power Factor
PF≥0.96 @ 230VAC TYP.
Features
Dimmable
3 in 1 dimming function
– 0~10Vdc
– 10V PWM signal
– Resistance
Auxiliary Power
No
Remote Function
No
Connections
Input
Flex and Plug 1.8m
Output
1x Twin Double Insulated Cable 300mm
Protections
Over Current
108 ~ 120% | Recovers once fault removed
Short Circuit
Re-power to recover
Over Voltage
15 ~ 17 VDC | Re-power to recover
Over Temp.
Re-power to recover
Environment
Working Temp.
Tcase= -40 ~ +90°C (refer datasheet for derating)
Working Humidity
20 ~ 95% RH non-condensing
IP Rating
IP67
Dimensions
L x W x H
191 x 63 x 37.5 mm
Weight
0.97 kg
Carton Quantity
15 pieces / 15.6 kg
Other
Class
II
Typical Lifetime
860.4K hrs min.
Warranty
5 Years
Approvals
RCM (Australia)
Notes
When selecting a LED driver or any power supply, it is good practice to allow at least 20% additional capacity of the intended load – this will ensure longevity of the power supply.
*Dimmable option – 3 in 1 dimming function (0~10Vdc, 10V PWM signal and resistance). Refer to the data sheet for further explanation.
Only logged in customers who have purchased this product may leave a review.