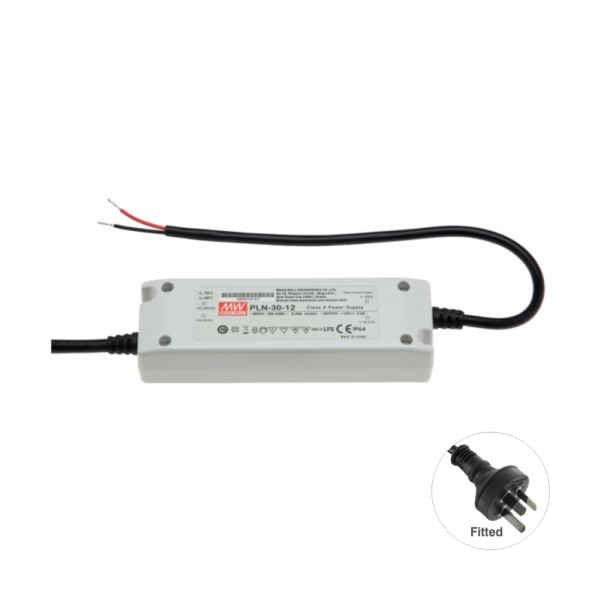 30W 12V DC 2.5A LED Driver | Mean Well PLN-30-12
Model: PLN-30-12 (Standard)
Warranty: 3 Years
1 in stock
Description
The PLN-30-12 is a 30W DC LED driver which can deliver up to 2.5A at 12VDC. Housed in a fully isolated plastic case with IP64 ingress protection level means this driver suits both indoor and high humidity environments.
Supplied with an Australian flex and plug.
Specifications
Output
Voltage
12 VDC
Current
2.5 A
Power
30 W
Constant Current Region
8.4 ∼ 12 VDC
Adjustable Voltage Range
(internal potentiometer)
-5 ∼ +10 %
Adjustable Current Range
(internal potentiometer)
3 ∼ -25 %
Input
Voltage
90 ∼ 295 VAC / 127 ∼ 417 VDC
Current
0.2 A @ 230 VAC
Inrush Current
35 A @ 230 VAC (twidth=25µs @ 50% lpeak)
Efficiency
82.5%
Power Factor
PF≥0.9 @ 230VAC TYP.
Features
Dimmable
No
Auxiliary Power
No
Remote Function
No
Connections
Input
Flex and Plug 1.8m
Output
1x Twin Double Insulated Cable 300mm
Protections
Over Current
100 ~ 110% | Recovers once fault removed
Short Circuit
Recovers once fault removed
Over Voltage
14 ~ 17 VDC | Re-power to recover
Over Temp.
Re-power to recover
Environment
Working Temp.
Tcase= -30 ~ +50°C (refer datasheet for derating)
Working Humidity
20 ~ 95% RH non-condensing
IP Rating
IP64
Dimensions
L x W x H
145 x 47 x 30 mm
Weight
0.22 kg
Carton Quantity
60 pieces / 14.2 kg
Other
Class
II
MTBF
621.4Khrs min
Warranty
2 Years
Approvals
RCM (Australia)
Notes
When selecting a LED driver or any power supply, it is good practice to allow at least 20% additional capacity of the intended load – this will ensure longevity of the power supply.
*Adjustable Io and Vo option – adjustable through built-in potentiometers.  This feature can be useful when there are long runs of cable and experience voltage drop.  It is imperative the adjusted voltage not exceed the operational voltage of the LED strip.
*Dimmable option – 3 in 1 dimming function (0~10Vdc, 10V PWM signal and resistance). Refer to the data sheet for further explanation.
Only logged in customers who have purchased this product may leave a review.