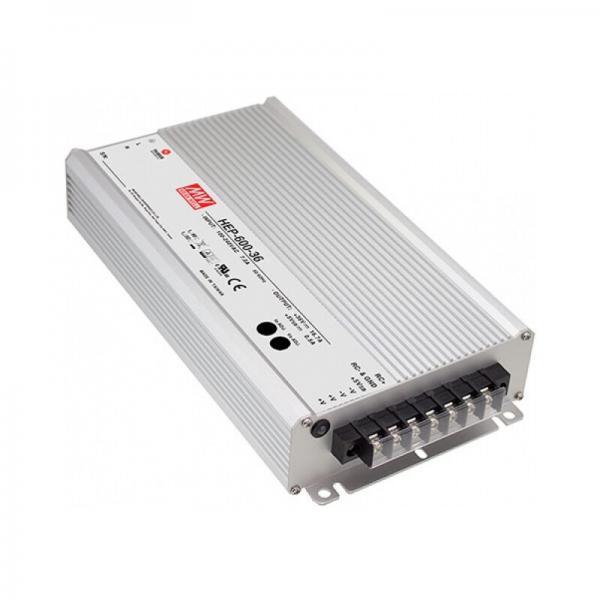 Mean Well HEP-600-24 | 24VDC 21A Battery Charger – Harsh Environment
Model: HEP-600C-24
Warranty: 6 Years
Available on backorder
Description
The Mean Well HEP-600C-24 is a 24V 21A intelligent 3 stage battery charger.  Intended for harsh environments with it's sealed aluminium frame and fully potted internals, it is ideal for marine and remote environments.  Built with high grade components and indestructible design it comes with a 6 year warranty.  Suitable for charging lead acid (flooded, Gel, AGM) and Li-ion (lithium iron & lithium manganese) type batteries. Note: the charging curve is designed for lead-acid batteries, speak to us if you wish to operate with other battery chemistries.
Recommended battery size: 70 ~ 210Ah 
Features:
Passive PFC
High efficiency
Wide operating voltage
Adjustable charging current and voltage
Remote on/off
Protections:

Reverse polarity
Short circuit
Over voltage
Over temperature

LED (3 colour) loading indicator
Cooling by free air convection
Withstand 10G vibration test
Operating altitude up to 5000m
Very high reliability – 6 year warranty
3 Stage Charging Program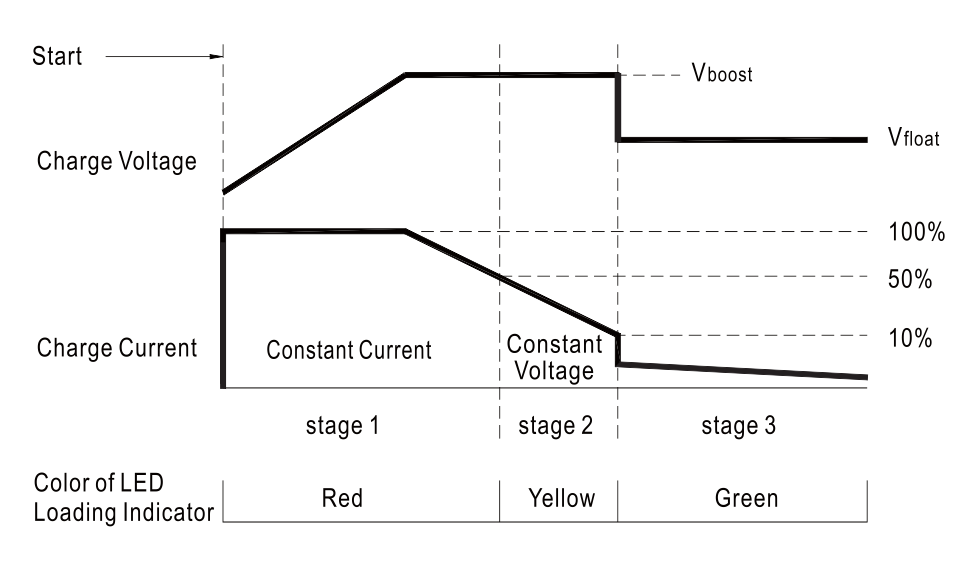 Stage 1 – Bulk Charge
This is where the battery typically receives the initial 80% of its charge.  The charger is operating in constant current mode, where the maximum current is delivered and the battery voltage rises to 2.4V per cell.  This stage finishes when the battery's voltage reaches it's peak.
Stage 2 – Absorption
This is where the battery typically receives the remaining 20% of its charge.  The charger is operating in constant voltage mode, where the maximum voltage of 2.4V per cell is delivered and the current decreases.
Stage 3 – Float
This is where the voltage lowers to the maintenance level 2.3V per cell to maintain charge.
Specifications
Output
Voltage
24 VDC – Battery
28.8 VDC – Bulk Charge
27.2 VDC – Float Charge
Adj Voltage Range
23 ~ 30.2 VDC
Current
21 A
Adj Current Range
10.5 ~ 21 A
Power
600 W
LED Indicator
Red – Bulk Charge
Yellow – Absorption
Green – Float
Recommended Battery Size
70 ~ 210 Ah
Input
Voltage
90 ∼ 305 VAC / 127 ~ 431 VDC
Current
3.3 A @ 230 VAC
Inrush Current
70 A @ 230 VAC
Efficiency
94.5%
Connections
Input
Screw terminals
Output
Screw terminals
Protections
Over Voltage
32.5 ∼ 36.5 VDC | Re-power to recover
Over Temp.
Shutdown, re-power to recover
Short Circuit
Internal circuit
Environment
Working Temp.
Tcase= -40 ~ +70°C (refer datasheet for derating)
Cooling Method
Convection
Working Humidity
20 ~ 95% RH non-condensing
IP Rating
IP20
Dimensions
L x W x H
280 x 144 x 49 mm
Weight
3.9 kg
Carton Quantity
4 pieces / 16 kg
Other
MTBF
73.1K hrs min
Warranty
6 Years
Approvals
RCM (Australia)
Only logged in customers who have purchased this product may leave a review.