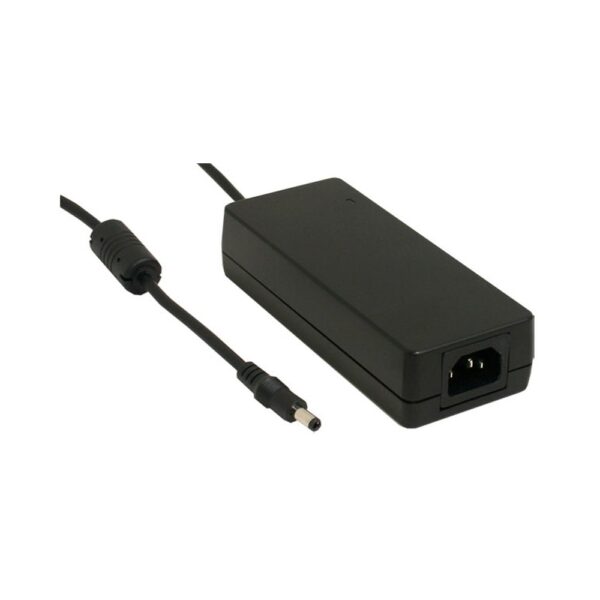 Mean Well GST90A12-P1M | 12V 6.67A Adaptor

Model: GST90A12-P1M
Warranty: 3 Years
4 in stock (can be backordered)
Description
The GST90A12-P1M indoor power adaptor has a form factor much like a laptop charger. It is an economical choice for indoor low power LED strip installations, it delivers 6.67A at a regulated 12VDC.
Requires a socket adaptor to connect a bare pair of wires, an IEC mains lead is also required.
Specifications
Output
Voltage
12 VDC
Current
6.67 A
Power
90 W
Input
Voltage
90 ∼ 264 VAC / 127 ∼ 370 VDC
Current
0.6 A @ 230 VAC
Inrush Current
70 A @ 230 VAC
Efficiency
88.5%
Connections
Input
IEC Lead
Output
DC Socket ID:2.1/2.5mm OD:5.5mm
Protections
Short Circuit
Recovers once fault removed
Over Voltage
105 ~ 135% rated output | Re-power to recover
Overload
105 ~ 150% rated output | Recovers once fault removed
Environment
Working Temp.
Tcase= -30 ~ +70°C (refer datasheet for derating)
Working Humidity
20 ~ 90% RH non-condensing
IP Rating
IP20
Dimensions
L x W x H
145 x 60 x 32 mm
Weight
0.450 kg
Carton Quantity
30 pieces / 14.05 kg
Other
MTBF
348.7K HRS MIN
Warranty
3 Years
Approvals
RCM (Australia)
Only logged in customers who have purchased this product may leave a review.