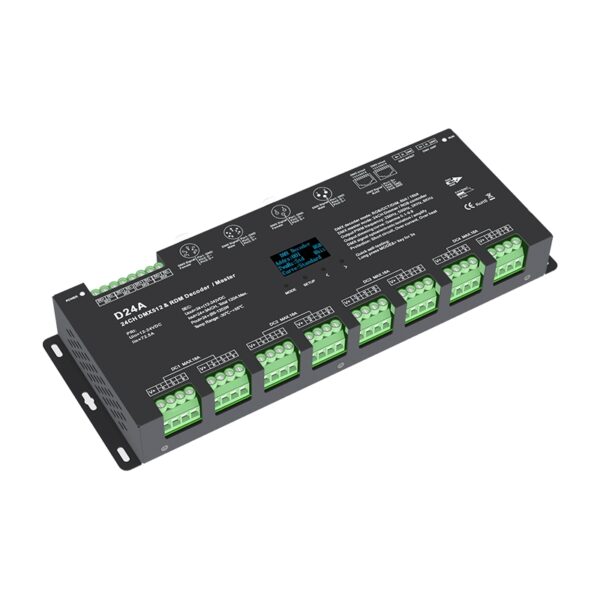 DMX512 – 24 Channel Constant Voltage Decoder / Master
11 in stock
Description
This is a 24 channel constant voltage DMX512 decoder / master with an output of 5A/CH at either 12 or 24VDC.  This decoder can be programmed to suit single colour, dual colour (CCT), or RGB LED strip light.
The on-board OLED digital display allows simple and logical setup as well as setting the PWM frequency and either a logarithmic or linear dimming curve.
Supports Remote Device Management (RDM) protocol which allows bi-directional communication between devices over a standard DMX line.
Features:
24 channels constant voltage output, Max. 5A current per channel, up to 2880W output power
Master & decoder mode with RDM function
Easy operation with OLED display and 4 buttons
DIM/CCT/RGB decoding mode selectable
PWM frequency 250/500/2000/8000Hz selectable
16bit (65536 levels) /8bit (256 levels) grey level selectable
Output dimming curve gamma value 0.1-9.9 selectable
Stand-alone RGB mode and 12 channel dimmer mode selectable, work as DMX master(8 bit) to control other decoders
Built-in 10 RGB programs, speed and brightness adjustable
Comply with the DMX512 standard protocols
DMX signal optoelectronic isolation / amplify
Over-heat / Over-load / Short circuit protection, recover automatically
Fast self-testing function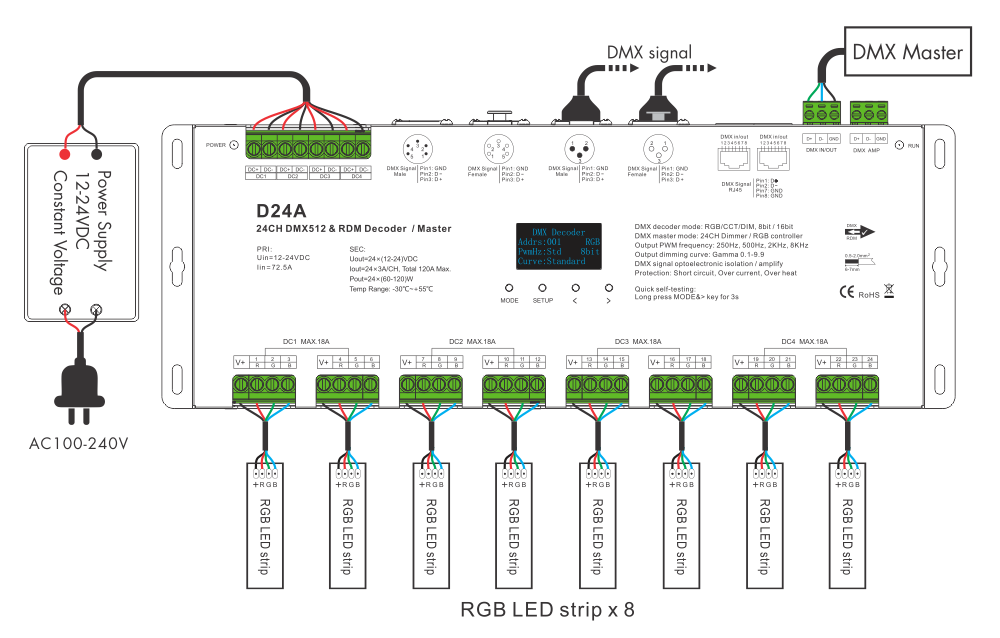 Specifications
Function
DMX512 Decoder / Master
Channels
24
Voltage (in/out)
12 ∼ 24
Output Power (per channel)
5A
Output Power (total)
60A
Output Type
Common anode
PWM Output Frequency
250/500/2000/8000Hz selectable
Connection (input)
XLR
Terminal block
Connection (output)
Terminal block
Protections
Reverse polarity
Over-heat
Over-load
Short circuit
Working Temp.
-30 ∼ 55°C
Dimensions
324 x 116 x 39mm
Only logged in customers who have purchased this product may leave a review.