LED Profile – Surface | Micro | 1008 – 3m

47 in stock (can be backordered)
Description
This micro / shallow size LED aluminium profile is designed to be surface mounted, it offers a clean look to an LED strip light installation.  Use with 5mm Narrow LED strip light.
The aluminium profile is anodised with a matte silver finish.  Each 3m length is supplied with a lens, 3x pairs of end caps and 6x mounting clips.
Whilst the profile adds to the aesthetics of the installation it also offers a number of benefits.  Protection of the LEDs from dust and humidity.  Acts as a heatsink, as higher power LED strip can produce damaging levels of heat.  Heat can quickly shorten the lifespan of LEDs.
Our LED profiles can also be colour matched powder coated to suit your installation.
Other profiles are available to order, MOQ and lead-times may apply.
Specifications
Type
Mounting
Surface
Cover
Opal (40~30% light transmission) – stocked
Diffuser (80~70% light transmission) – optional*
Clear (95~85% light transmission) – optional*
Profile Colour
Oxidised Silver – stocked
Custom Powder Coating – optional*
End Cap Colour
White – stocked
Grey – optional*
Black – optional*
Silver – optional*
Material
Profile
Aluminium: 6063-T5
Anodised Thickness: 10µm
Cover
Polycarbonate (fire rating: V2) UV Resistant
End Caps
Polycarbonate (fire rating: V2) UV Resistant
Mounting Brackets
Stainless Steel
Dimensions
Width (outer)
10.0 mm
Height (outer)
8.4 mm
Width (inner)
6.2 mm
Length
3 m
Max LED tape width
6.0 mm

Accessories

Mounting Clips
6 each
End Caps
3 pairs (3x with cable entry, 3x blank)
*MOQ / lead-time may apply
Notes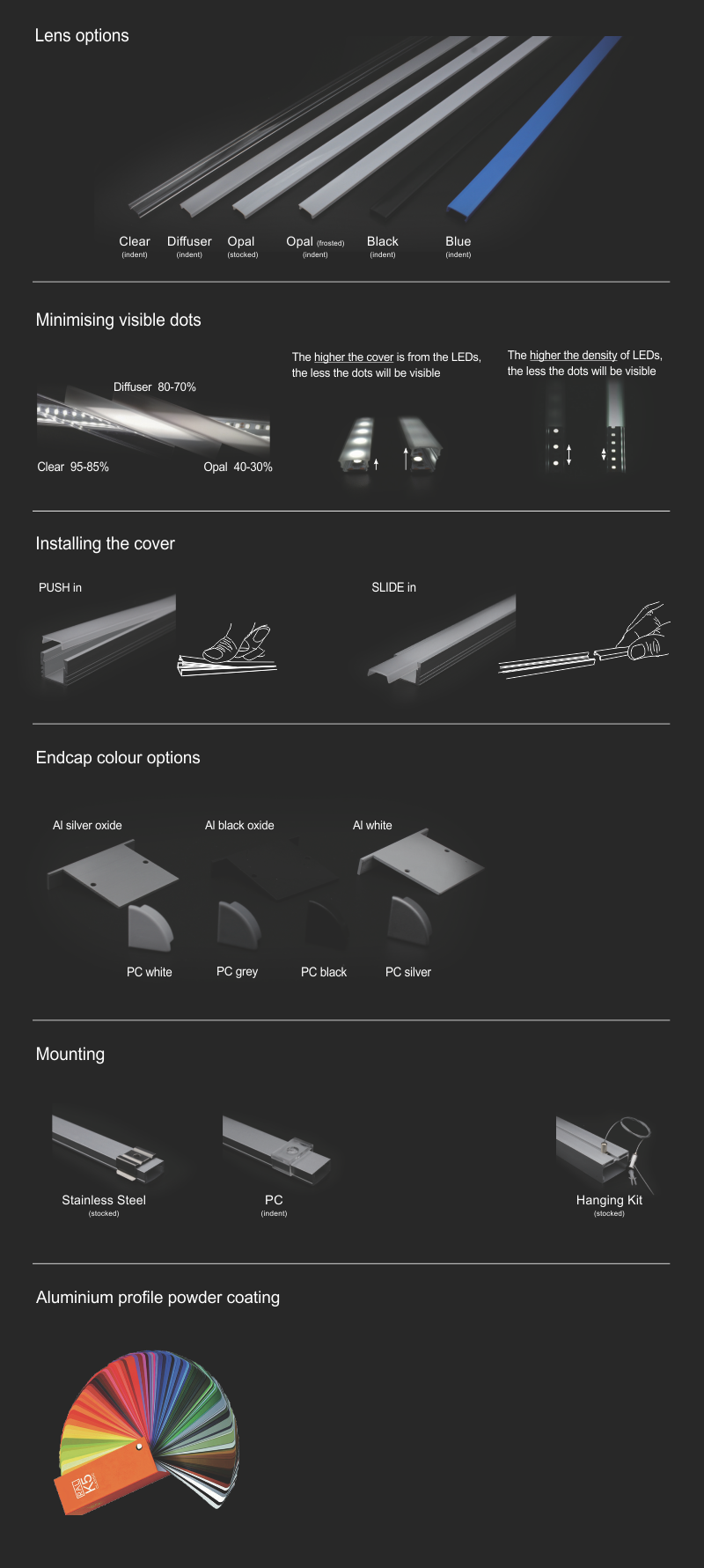 Only logged in customers who have purchased this product may leave a review.