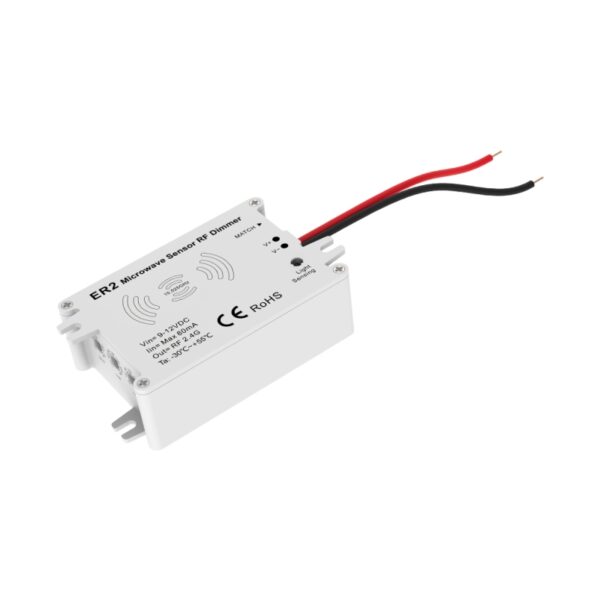 Microwave Sensor (RF Switch / Dimmer)
2 in stock (can be backordered)
Description
The ER2 microwave sensor detects human body motion to control any of Skydance's range of RF receiver / controllers.  Motion can be detected through plastic, glass and thin non-metal materials using the HF 10.525GHz system.  Detection range is up to 20m and can be adjusted from 100% to 10%, hold time is also adjustable from 10sec to 30min.
Upon human detection the ER2 can be set to activate the lights to a predefined Lux level whilst compensating for the surrounding ambient light. Lux levels can be set to: 50, 100, 150, 200, 250, 300 or 400lux.
RF Control
Pairing the receiver is simply performed by: A short press of the match key on the receiver / controller.  Followed by an immediate press of the match key on the sensor.  The LED indicator on the controller will fast flash a few times, indicating the match is successful.
FEATURES:
Active microwave motion detectors with HF system 10.525GHz, motion can be detected through plastic, glass and thin non-metal materials
Built-in motion sensor and daylight sensor
Powered by 9~24VDC, output RF 2.4G signal
Matched with RF LED controller or RF dimmable LED driver use
Detection area, time delay and daylight threshold can be set via knob potentiometer
Wide detection area, range up to 20m in diameter
Supports mounting height up to 15m
1 sensor can be paired to an infinite number of receivers
FUNCTIONS
This sensor is a motion RF switch, which turns on the light upon detection of motion, and turns off after a pre-selected hold time when there is no movement.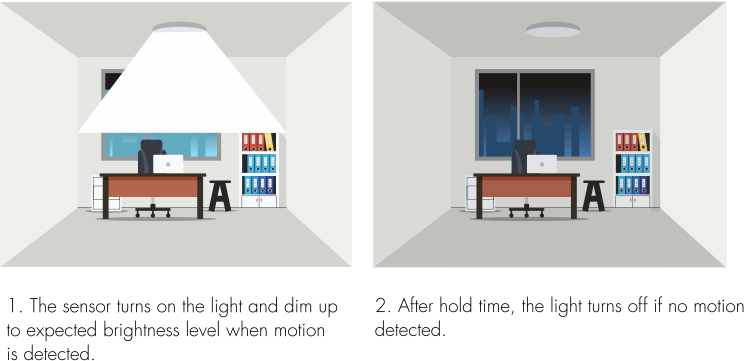 DETECTION PATTERN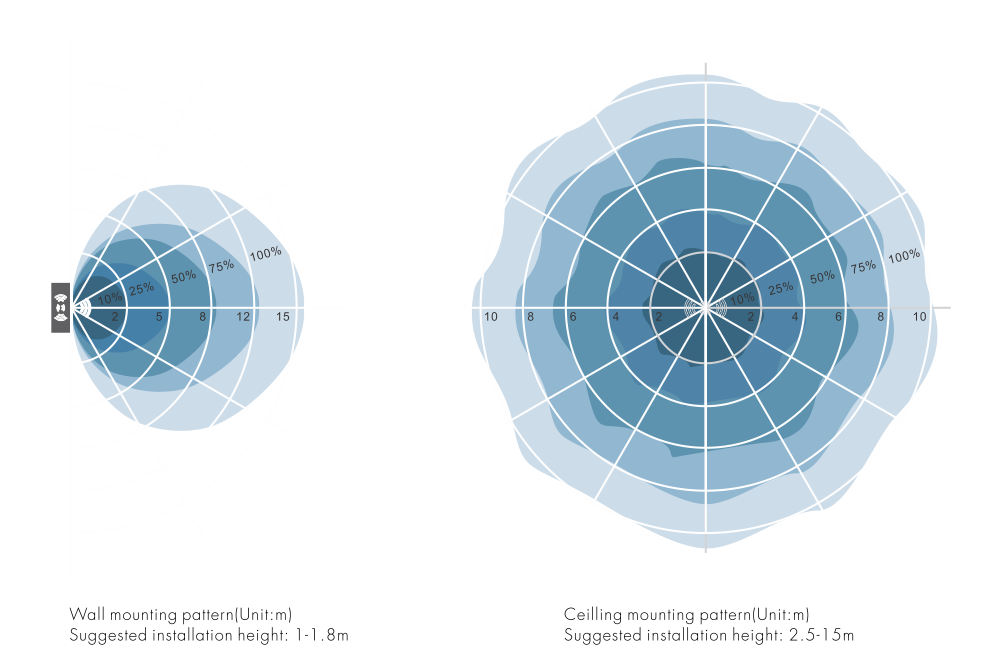 Specifications
Function
Microwave Motion Sensor
Input Voltage
9~24VDC
Power Consumption
< 0.5W(Standby) <1W(Operation)
HF System
10.525GHz
Detection Zone
Wall Mount: 15m
Ceiling Mount: 20m
Detection Angle
Wall Mount: 150°
Ceiling Mount: 360°
Mounting Height
15m (Max)
Detection sensitivity
10, 25, 50, 75, 100%
Hold Time
10s, 30s, 90s, 3min, 10min, 20min, 30min
Daylight Sensor
50, 100, 150, 200, 250, 300 or 400lux
Motion Detection
0.5-3m/s
Operating Temperature
Ta: -30°C ~ +55°C
PWM Frequency
750Hz
IP Rating
IP20
Warranty
5 Years
Only logged in customers who have purchased this product may leave a review.