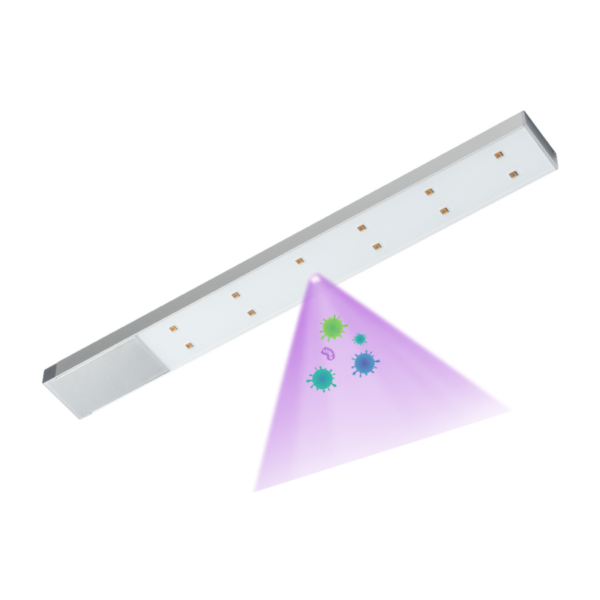 UV-C Sterilizer LED Light | WiFi Control
16 in stock
Description
UV-C light sterilizes both air and surfaces by permanently damaging the DNA of bacteria and and viruses.  
This UV-C sterilizer light is designed to be mounted shining down on to a surface, i.e. kitchen work surfaces.
Featuring 12x LEDs emitting the 275nm wavelength, which is known to kill 99.9% of bacteria and viruses.
The light is connected to your phone or smart home device by WiFi.  This allows you to operate the light remotely and safely.  Works with both IOS and Andriod, as well as Amazon Echo and Google Home devices.
Extreme Caution: Avoid contact with any human, living plant or animal.
As UV-C is invisible to the eye, the UV-C light must be installed together with adequate safeguards to ensure it is operated in a safe manner.
Read the FDA's advice on UV-C: UV Lights and Lamps: Ultraviolet-C Radiation, Disinfection, and Coronavirus
Specifications
Hardware
Voltage
24 VDC
Wavelength
275 nm (UV-C)
Power
7 W
Dimensions
34 x 318 x 14 mm
Brightness Range
10 ~ 100%
Dimming Frequency
1,000 Hz
Only logged in customers who have purchased this product may leave a review.