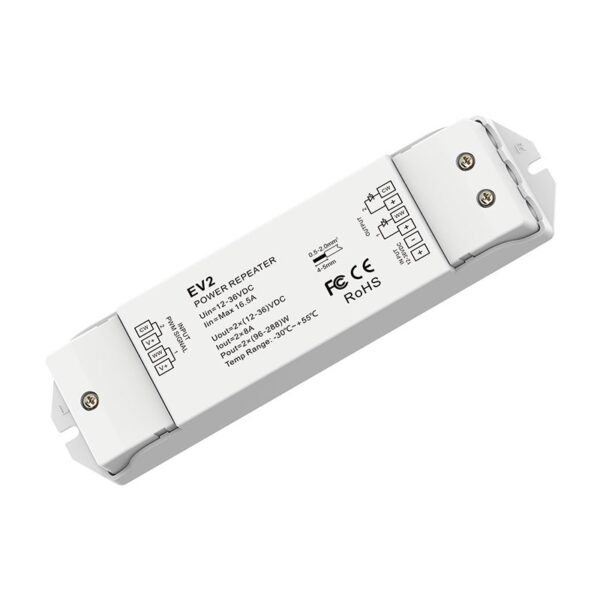 CCT (Dual Colour) Repeater / Amplifier 16A
10 in stock (can be backordered)
Description
This CCT LED strip light repeater / amplifier can expand a controller's capacity up to 16A. By using an amplifier all functions of the controller are transmitted to the LED strip connected to the repeater.
An unlimited number of repeaters can be connected to one controller.  A single driver can be connected to both the controller and the repeater, or individual drivers can be used.
FEATURES:
Output power:

Total: 16A (192W) @ 12V / 16A (384W) @ 24V
2/Ch: 8A/Ch (96W) @ 12V / 8A/Ch (192W) @ 24V

Output type: constant voltage (not PWM)
Specifications
Function
CCT (Dual Colour) repeater
Channels
2
Input Voltage
 12~24VDC
Output Voltage
12~24VDC
Output Power
Total:
16A (192W) @ 12V
16A (384W) @ 24V
Per Channel:
8A (96W) @ 12V
8A (192W) @ 24V
Operating Temperature
Ta: -30°C ~ +55°C
Case Temperature (Max.)
Tc: +85°C
IP Rating
IP20
Dimensions
175 x 45 x 27mm
Protections
Reverse Polarity
Over Temperature
Short Circuit
Warranty
5 Years
Only logged in customers who have purchased this product may leave a review.